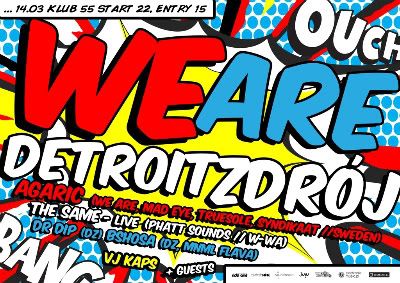 14.03 "we are" detroitZDRoJ
AGARIC (We Are, Mad Eye, Truesoul, Syndikaat //Sweden)
THE SAME - LIVE (Phatt sounds // W-wa)
DR DIP (detroitZDRoJ)
BSHOSA (detroitZDRoJ, mnml flava)
+ guests
VJ Kaps
/ENG/
March has landed so brace yourselves for turbulent weather anomalities.
But even though it's cold and wet the ZDRóJ Galaxy is blooming. It's actually full of mushrooms – toadstools (agarics), to be exact. One may wonder what kind of association exists between detroitZDRoJ and those deadly fungi. In fact, the two have a lot in common and no, it's not hallucination or nausea. No! Read on:
Patrik Skoog has been artistically active for over 10 years now. And he's been ubiquitous. It's amazingly hard to believe that he's released more than 100 titles (including tracks on the widely acclaimed and respected now-classic label Drumcode). After a relatively longish dive into the harder sounds of uncompromising techno he's decided to redefine his music and explore the slower and deeper side of electronic music under the Agaric alias. This particular fact stimulated the establishment of his own record label – We Are – which, apart from the founder's own musical concepts, embraces also the works of such luminaries as Mikael Stavrostand, Pheek, Apendics Shuffle and Mathias Kaden. Additionally, besides his solo project, Patrik is simultaneously engaged in collaborative creation. Thus, the more vocal electronic tracks are the result of cooperation with one of the techno icons – Adam Beyer, while San Lebowski project incorporates the undisputed talents of a Danish producer named Ecco.
Playing live Patrik presents cross-genre eclecticism combined with perfect technique and flawless atmosphere balance. But these factors constitute mere foundations. Therefore, blend in Skoog's frequent leaning toward avant-garde and abstraction and you end up with an interesting and unique DJ profile. Recipe of that sort will certainly wreak havoc on the dancefloor and yet another mushroom will grow…nuclear mushroom that is.
It has become an annual tradition for us to introduce the so-called 'New Faces' in March – last year we had the pleasure to host Ray Okpara (just before he entered the international super-league of house music producers) and Jurek P., who is now contracted to Cocoon Records! Continuing our custom, this year we've invited two young Warsaw dwellers who go by the name of 'The Same'.
Let us unveil a little bit about these two friends from the capital of Poland. They met in 2006 when they were both absorbed by their individual music production. Similar vision and approach to sound sculpting led to the idea of combining their efforts and, eventually, setting up a duo – 'The Same'. Ever since that time they've made quite a few tracks which are soon to be released on Polar Noise and Phatt Sounds. The tandem's goal is to conjure up interesting electronic music – a fusion - if you will - of tech-house, minimal, etno, classical and jazz.
Our guests will receive support from dZ Allstars – Dr Dip and bshosa and VJ Kaps will illuminate the whole place with smashing visuals.
Come and join us this March!
/PL/
W marcu jak w garncu - jest mokro i zimno, a mimo to w galaktyce ZDRoJ! wyrastają grzyby, źeby było ciekawiej - muchomory. Co muchomory mogą miec wspólnego z detroitZDRoJ? Otóż okazuje sie ze mogą i to całkiem sporo i nie chodzi wcale ani o halucynacje, ani niestrawnosci dnia nastepnego. Czytajcie :
Patrik Skoog działa na światowej scenie muzycznej już od ponad 10 lat. aż trudno uwierzyc, że ma na swoim koncie grubo ponad 100 wydawnictw, w tym na uznawanej za klasyczną wytwórni - Drumcode. Po dosyć długiej przygodzie z mocniejszymi odmianami techno postanowil eksplorowac wolniejsze i głębsze obszary muzyki elektronicznej jako Agaric (ang. muchomor). Z tego też powodu uruchomił własną wytwórnie - We Are - gdzie oprócz swoich pomysłow na muzykę taneczną prezentuje produkcje autorstwa takich slaw jak m.in. Mikael Stavrostand, Pheek, Appendics Shuffle czy też Mathias Kaden. Oprócz solowej twórczości Patrik prowadzi równoczesnie kilka projektów kolaboracyjnych – z ikoną muzyki techno Adamem Beyerem nagrywają - elektroniczne kawałki wokalne, z duńczykiem Ecco współtworzy duet pod nazwą San Lebowski.
Na scenie Patrik prezentuje eklektyczny styl, gdzie idealna technika i fantastyczne wyczucie klimatu to tylko podstawy, dokladając do tego skłonność do awangardy i abstrakcji otrzymujemy obraz DJ'a niebanalnego i interesującego. Połączenie tych składnikow bez wątpienia spowoduje powstanie na parkiecie kolejnego grzyba, ale atomowego.
Ponieważ tradycyjnie już marzec jest dla nas miesiącem prezentacji tzw "New Faces" - w zeszłym roku gościliśmy Ray Okpare, niejako w przeddzień jego wstąpienia do panteonu gwiazdek muzyki house i Jurka P, ktory dzis wydaje nakladem Cocoon Rec. Tym razem do występu zaprosiliśmy dwóch młodych warszawiaków kryjącyh się za pseudonimem "The Same"
Projekt The Same jest owocem współpracy dwóch przyjaciół mieszkających na codzień w Warszawie, Ich znajomość zaczęła się w 2006, kiedy to produkowali pod różnymi pseudonimami. Podobne poglądy i wizja muzyki, doprowadziły do połączenia wspólnych sił i do powstania duetu. Od tamtej pory spod ich rąk wyszło kilka produkcji, które niebawem ujrzą światło dzienne m. in. w Polar Noise czy Phatt Sounds. Wizją kolektywu jest tworzenie ciekawej elektroniki - fuzji muzycznych, z wpływami tech house-u, minimalu, muzyki etnicznej, klasycznej i jazzu.
Wsparrcia gosciom udzielą dZ all stars, czyli Dr Dip i bshosa, a zaświeci nam VJ Kaps. Przyjdżcie marcować się razem z nami !
start 22 entry 15/20
www.myspace.com/djagaric
www.myspace.com/detroitzdroj
www.myspace.com/thesamepl
www.myspace.com/bshosa